Encouraging children to create sensory representations of their emotions using colors, sounds or other mediums is a common mindfulness intervention that enhances emotional awareness and facilitates the expression of feelings. In this simple activity, the client imagines what their emotions would be like if they were monsters. Not only does this help the client come to a stronger understanding of their inner world, it allows the therapist to begin assessing their client's relationship to their feelings. As children process their thoughts and experiences over the course of treatment, we tend to see the way they regard their emotions shift naturally away from avoidance or resistance and toward acceptance. Repeating this directive again at a later stage of treatment can sometimes show that a client feels more compassion for the monsters or that their attitude toward their feelings has shifted. Putting a digital twist on this intervention by providing software options allows for easy tweaks to fit a wide variety of needs and modalities, and can also help to open up creative avenues for clients.
This activity is easily adaptable to a wide range of treatment areas and modalities, and works with a variety of supplies. Start by gathering materials to offer the client and allow them to choose how they would like to create their monster. Below are examples of some of the most common mediums.
Art supplies (e.g., paper, crayons, paints, markers, pastels, glitter, etc.)

Offer many different art supplies and allow the client to select the medium that fits their monster/emotions best. Clients often select multiple materials to give their artwork more depth and involve more senses in the creative process.

Craft supplies (e.g., yarn, googly eyes, discarded household items, boxes, etc.)

The client may prefer to create a 3D representation of their monster. Sometimes these crafts even become toys that are used during play therapy sessions or as coping tools at home. Below you will find instructions for the popular pom pom monster variation. Click here for a step-by-step photo tutorial and here to watch a video.

Digital tools (e.g., Hopscotch telehealth platform, Google Slides template, etc.)

Visit CreativePlayTherapist.com/Feelings-Monster for a free Google Slides template with an interactive version of this intervention, featuring concepts and illustrations from Be Mindful of Monsters. 
Hopscotch is a HIPAA-compliant telehealth platform that offers access to a library of high-quality digitized interventions for child and adolescent mental health therapists. A free interactive feelings monster exercise is available at Get-Hopscotch.com, along with hundreds of other digital activities. 
This activity can be done on its own or alongside "Be Mindful of Monsters," a storybook designed to help children accept difficult emotions. This intervention is also featured in the 100-page "Mindful Monsters Therapeutic Workbook." Learn more at  Bumblebls.com/Books.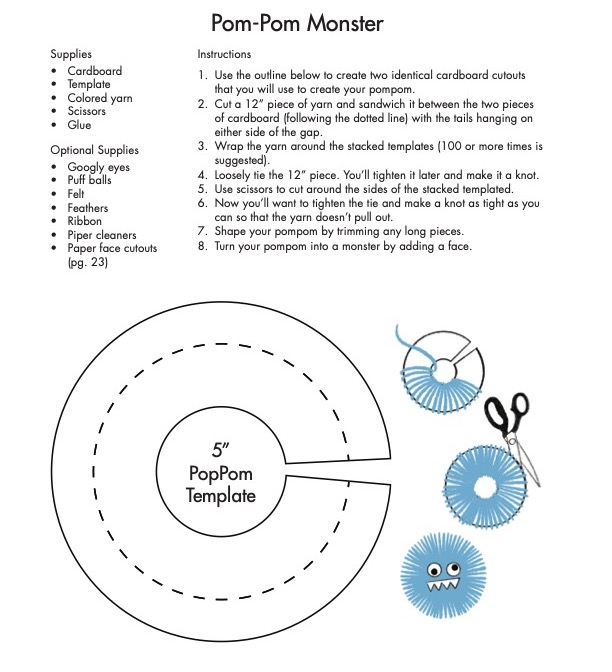 Therapeutic Uses
This can be a follow-up activity to the Feelings Monster intervention, which focused on assessing a child's relationship to their emotions by engaging their senses to create a visual representation in the form of a monster (pg. 55 of the Mindful Monsters Workbook).
After completing the initial Feelings Monster activity but before moving onto this one, assist the child in understanding the importance of accepting emotions while they gradually build their tolerance. This step takes time and patience.
The basic concept is the same as the Feelings Monster activity, but with the added goal of helping children begin to shift their relationship to their emotions from one of resistance toward one of acceptance.
Work together to create a pompom out of yarn that the child can decorate to make their feelings monster.
Some may create one pompom that represents all of their emotions, while others may want to make one for each feeling.
If you want to incorporate a version of "Color-your-life" (pg. 55 of the Mindful Monsters Workbook), have them assign a color to each feeling and use varying amounts of colored yarn to show how much they feel each emotion.
Even if you try to make a pompom monster look ugly and scary, it will almost always turn out adorable. Children's attitudes toward their feelings usually begin to soften when you remind them that the pompom monster represents the same difficult emotions their drawing did. You can compare the two activities to help children understand that the difference is in their perception.
Try talking about the monster in terms of the Pain Monster metaphor from Acceptance and Commitment Therapy (p. 55 of the Mindful Monsters Workbook).
Pain Monster: Picture your monster standing in front of you and see if you can let go of any resistance you feel as you simply observe it. Treat it with compassion, the way you might welcome a friend into your home even if they are dirty, smelly, cranky and tired from a long day. You don't have to like how they look or smell to welcome them in. Your poor monster has nowhere else to go and just needs to be accepted unconditionally and cared for.
Fighting the monster or shutting it out in the cold will only make things worse. Explore ways to accept the monster and discuss what it needs.
After learning the concepts of "sitting with" or "holding" emotions, children can practice these skills with their pompom monster as a physical representation of their emotions.
Engage families in this activity so that the Pompom Monsters can be used at home.
This activity can also be incorporated into a Monster Meditation (pg. 65 of the Mindful Monsters Workbook).
The book "Be Mindful of Monsters" is designed to communicate these difficult concepts to children.